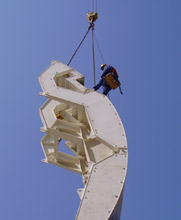 The company Nebojsa Ltd
majors in work using mountaineering technique: work in heights, iron constructions assembly, assembly and disassembly work, welding in accordance to EN 287, roof trapezoidal sheets (roofs) assembly, light peripheral shells (facades) assembly, industrial coatings.


Thanks to this execution we are able to save great financial means spent on assembly technique (fork-lift trucks, assembly baskets + cranes for their operation, scaffolding and the like).
Some projects we took part in within the Czech Republic and abroad.
Hills Hustopeče, Czech Republic (industrial halls assembly), Biomar A/S Myre Norway (assembly work), Islisberg tunnel Switzerland (mobile sheathing boarding assembly), Prague airport PLC, Czech Republic (aeronautical fuel "JET A-1" tanks coating), Mercedes Bremen Germany (folded facade assembly) ...